Welcome to the Rooted Working Mom podcast! Find True Rest in Jesus, Rise in Your God-Given Authority & Raise Kingdom Kids Steward & Connect With Your Kids Through Gospel Centered Parenting, as a Busy Working Mom God-Led Wholeness Coaching in Faith, Motherhood, Wellness, & Mindset Find Clarity and Purpose in Your Motherhood Let Go of Working Mom Guilt Say Goodbye to Burnout Hey sweet mama! If you've been in a space of overwhelm, exhaustion, struggle, and feeling like you are just not good enough…Maybe you feel the tug to step into your authority as a present mom and wife while still pursuing your career… but you're unsure how to integrate everything with more peace and intention while staying partnered with God. And you are truly ready to figure out who God is calling you to be in your life. Then this podcast for YOU! Hi I'm Cynthia, director (both at work and at home), entrepreneur, busy working boy mom of two here on earth and two in heaven, wife, and daughter of the King. After struggling to be the patient and loving mom I wanted to be, constantly burntout, having outbursts of anger towards my family, allowing the enemy to torment me with food, striving to always please people, and believing I was failing in all areas of life, I spent years finding my identity in Christ. Fighting against the spiritual bondage of perfectionism, worry, fear of failure and growing my trust in Jesus, have allowed me to experience healing, restoration, and freedom. After navigating who God has called me to be as a wife, mom, leader in higher education, and businesswoman I was transformed! Through that shift, I was led to creating this safe space for other working moms to explore their own identity in Christ and create a rooted, whole, life-God's way with His priorities and energy! This Holy Spirt-Led podcast is going to help you find TRUE freedom, while resting in Jesus, rising into your authority, and raising kingdom kids. AMEN! Here in this space you will be encouraged, empowered, and partnered with Jesus to get breakthrough in your faith, motherhood, wellness, and mindset so that you can have victory, as a mama who is resting and living light, in the presence, with peace, joy and fulfillment. You will find tactical training, tips, biblical truths, inspiring guests, honest stories from women just like you, self care tips, and so much more! Grab your coffee or glass of wine and let's dive in! You were born for such a time as this! > Website: rootedworkingmom.com >: Facebook Sisterhood: bit.ly/rootedworkingmomcommunity >IG: @cynthia.p.castro >Connect: RootedWorkingMom@gmail.com >Join the Rooted Working Mom Insider group: bit.ly/rwminsider
Episodes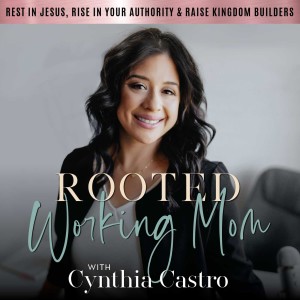 Saturday Oct 30, 2021
Saturday Oct 30, 2021
Hi Mama! 
On Today's show, we talk all about how to mother with connection in mind and explore the KEY to connecting with your kids with a special guest, my friend and author, Lisa Qualls, OneThankfulMom.com
Lisa Qualls is the co-author, together with Dr. Karyn Purvis, of The Connected Parent: Real-Life Strategies for Building Trust and Attachment. She and her husband, Russ, have twelve kids by birth and adoption and have also been foster parents. Their adoption journey has been marked by joy as well as challenges of trauma and attachment. Lisa is also the co-founder of The Adoption Connection, a resource site and podcast for adoptive and foster parents.
Lisa gives proven, practical advice and powerful tools to build connections with your kids that you can successfully implement in your home. 
I pray this time together and the strategies given, bless you and your family and that it brings peace and joy in your home. 
Blessings, 
Cynthia💖

✨Would you be open to helping me share the show with others? You can do it by simply taking a quick minute to leave me a written review and then taking a screenshot of this episode or your review and sharing it in your Instagram or Facebook stories and tag me @cynthia.p.castro. I'll share you and together we can share God's love with other working mamas! 
✨Have you joined our Facebook mamahood? It's the Rooted Working Mom Community. It's a safe space to collaborate, connect, be inspired, and grow alongside other working moms just like YOU. We even have fun giveaways and pray for each other. 🙏🏼
Come join us at bit.ly/rootedworkingmomcommunity
Let's connect!!
>>Instagram: @cynthia.p.castro
>>Email: rootedworkingmom@gmail.com
>>Rooted Working Mom website coming soon!! 🥳