Welcome to the Rooted Working Mom podcast! Find True Rest in Jesus, Rise in Your God-Given Authority & Raise Kingdom Kids Steward & Connect With Your Kids Through Gospel Centered Parenting, as a Busy Working Mom God-Led Wholeness Coaching in Faith, Motherhood, Wellness, & Mindset Find Clarity and Purpose in Your Motherhood Let Go of Working Mom Guilt Say Goodbye to Burnout Hey sweet mama! If you've been in a space of overwhelm, exhaustion, struggle, and feeling like you are just not good enough…Maybe you feel the tug to step into your authority as a present mom and wife while still pursuing your career… but you're unsure how to integrate everything with more peace and intention while staying partnered with God. And you are truly ready to figure out who God is calling you to be in your life. Then this podcast for YOU! Hi I'm Cynthia, director (both at work and at home), entrepreneur, busy working boy mom of two here on earth and two in heaven, wife, and daughter of the King. After struggling to be the patient and loving mom I wanted to be, constantly burntout, having outbursts of anger towards my family, allowing the enemy to torment me with food, striving to always please people, and believing I was failing in all areas of life, I spent years finding my identity in Christ. Fighting against the spiritual bondage of perfectionism, worry, fear of failure and growing my trust in Jesus, have allowed me to experience healing, restoration, and freedom. After navigating who God has called me to be as a wife, mom, leader in higher education, and businesswoman I was transformed! Through that shift, I was led to creating this safe space for other working moms to explore their own identity in Christ and create a rooted, whole, life-God's way with His priorities and energy! This Holy Spirt-Led podcast is going to help you find TRUE freedom, while resting in Jesus, rising into your authority, and raising kingdom kids. AMEN! Here in this space you will be encouraged, empowered, and partnered with Jesus to get breakthrough in your faith, motherhood, wellness, and mindset so that you can have victory, as a mama who is resting and living light, in the presence, with peace, joy and fulfillment. You will find tactical training, tips, biblical truths, inspiring guests, honest stories from women just like you, self care tips, and so much more! Grab your coffee or glass of wine and let's dive in! You were born for such a time as this! > Website: rootedworkingmom.com >: Facebook Sisterhood: bit.ly/rootedworkingmomcommunity >IG: @cynthia.p.castro >Connect: RootedWorkingMom@gmail.com >Join the Rooted Working Mom Insider group: bit.ly/rwminsider
Episodes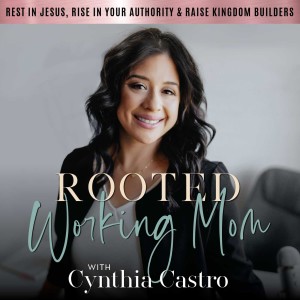 Friday Mar 10, 2023
Friday Mar 10, 2023
Hello Mama!
Welcome back to the Rooted Working Mom podcast.
Is your New Year's resolution or goals of eating healthy and working out not going as you planned? Well, I'm here to tell you it is NOT too late to look and feel the way you want to for springtime.
I'm excited because, in today's episode, we welcome back fitness coach and former USA Olympian Kristi McGihon. Kristi teaches us how to get back on track with our weight management goals and be empowered to make healthy food choices as busy working moms!
Before we dig in I want you to know we are doing a 28-day group health and fitnesses challenge NewMe 2023: Feel Good, Look Good, Do Good so that we can step into who God calls us to be and YOU are invited to join us! My goals are to get more energy, focus, cut sugar cravings, sleep better, and burn more fat. If you want to do it with us, be sure to listen until the end so that you get to hear all about the special offers and special FREE gift I have for you. 
Rooted in God's love.
Blessings,
Cynthia 💖
Need a solution to STOP the dinnertime stress? Get my FREE DOWNLOAD: 5 TIPS FOR STRESS-FREE DINNERTIME guide!
Get it here: bit.ly/stressfreedinnertime 
More FREE Resources for YOU!

>>Website: ROOTEDWORKINGMOM.COM

>>FREE Rooted Working Mom Community: bit.ly/rootedworkingmomcommunity 

>> Grab my FREE 5-Day WOW! Bible Study for the Busy Working Mom: Spending Time With Jesus Is Self-Care
For the Mom Who Worries
For the Mom Who Sacrifices & Still Feels Guilt
For the Mom Who Feels Burnt Out & All Alone
For the Mom Who Desires Self Care
To the Mom Who is a Beautiful Masterpiece, Created in the Master's Hands
For the Mom Who Wants Rest
For the Mom Who Wants to Trust In God
Join here: bit.ly/selfcarebiblestudy  
Let's Connect Friend!